If you want to enhance and add an alluring design to your fabrics, your front runner will be hand embroidery. But what about a difficult and time-consuming process that will irritate you. You must design your fabrics using innovative technologies that make the craftsman's life easier. What exactly is it? Don't panic; we will guide you.
We put dozens of machines through their tests based on price, features, and, most important, user reviews. Each product surpasses the other; however, devices with high performances and reasonable prices earned a spot on our list. So here are the 7 best embroidery machines which may steer you away from buyer's remorse.
So let's start without any wait!!
IMAGE
PRODUCT
FEATURES
PRICE
Brother SE600

103 built-in-stitches

Drop-in top bobbin

Brightwork area

Check on Amazon
BrotherPE800

On-screen editing

Automatic threader

5″ X 7″ hoop area

Check on Amazon
Brother SE1900

240 built-in stitches

10 frames shapes

Automatic threader

Check on Amazon
Janome Memory Craft 9850

200 built-in-stitches

6 one-step buttonholes

1000 stitches per min

Check on Amazon
Brother PE535

14.99 pounds weight

80 built-in stitches

Drop-in bobbin

Check on Amazon
Janome Memory Craft 500E

160 designs

On-screen Editing

Auto Return post

Check on Amazon
Eversewn Spparow-X

16 lbs weight

850 stitches per minute

Auto tension control

Check on Amazon
Uten-2685A

200 built-in stitches

Auto size buttonhole

Adjustable thread tension

Check on Amazon
Brother SE400

4″ X 4″ embroidery field

Embroidery arm

Bright workspace

Check on Amazon
Singer SE300

250 built-in stitches

800 stitches per minute

25 years warranty

Check on Amazon
10 Best Embroidery Machines
Our Top Pick
Brother SE600- Best Machine for Shirts
Specifications:
On-screen editing
Automatic needle threader
138 pre-installed designs
5″ X 7″ hoop area
The 3.2″ LCD color touch screen of the Brother Se600 lets you preview your design before stitching. You can choose your preferred design, resize it, modify the color, and save it for later usage on the screen. Personally, I believe that its screen is easy to use for newbies and experts.
It has a 6.4″ wide and 4.1″ high workspace, helping you to fold larger projects to the right side of your needle for easier stitching.
If you're looking for larger projects than you are on the wrong product, scroll down. Because it only has a 4 "X 4" hoop, it is best for shirt embroidery.
With its 80 built-in designs and 6 lettering fonts, you have plenty of options. We judged that you could only save 12 designs before the machine displays a full memory message.
One surprising thing about the SE600 is that it is relatively quiet when in use, so you can enjoy your embroidery without disturbing others.
Moreover, you can also import your choice designs through USB. However, many make the mistake of importing a design that is higher than 4″ X 4″ embroidery space, which can cause problems. The USB doesn't come with a machine, but you have to put a small cost on it.
Pros
Good in price
Variable speed control
Automatic thread cutter
Portable and Lightweight
Brother SE600 is a low-cost machine with a lot of features. If you are a newbie and face some issues, it will provide you with an animated step-by-step video to help you solve the problem. The Company provides everything you need to get started, including zigzag stitching feet, monogramming and overcasting, ten buttonholes for a quick start.
So with Brother SE600, bring your embroidery thoughts to life!!
For better understanding also read for which types of embroidery machine is best.
Budget Pick
Brother PE800- Best Computerized Machine
Specifications:
On-screen editing
Automatic needle threader
138 pre-installed designs
5″ X 7″ hoop area
In the field of embroidery, Brother Machines are gaining admiration. Their advanced and easy-to-use features attract most of the embroiders. Brother PE800 3.2″ LCD screen allows users to add, edit multiple designs, drag-drop patterns, and adjust their position. You can preview your design on an LED screen and customize it according to your choice.
When we were editing the design, the screen gave us advice and simple instructions. The screen is easy and perfect to use from users' reviews and shows how long it will take to stitch a pattern. It's very incredible!!
It gives 138 built-in designs, including floral and scrollwork patterns that enable your creativity to bloom. Moreover, 11 built-in-fonts make it best for monogramming and lettering. If these are not sufficient, you can import designs through USB.
The average time for stitching a design was approximately five minutes, so look how fast it works. There are various software and websites that offer limitless possibilities for nonstop embroidery. But remember the machine only accepts .PEG file types.
The 5″ x 7″ embroidery area offers an excellent space for larger projects. As this machine is an upgraded version of PE770, you can use old hoops. You can easily change the hoop if working on a small project, but you will buy it on your own.
Brother PE800 is currently Amazon top selling embroidery machine.
The 2 bright LED lights help you if you are working in a dark place or if you see less in the dark. The machine uses 90 weight bobbins thread. Moreover, if you don't have pre-winded bobbins, no problem, the machine has the ability of winding.
During the test, we noticed that if your plastic bobbins are about to run out, the machine will automatically detect this and display an alert on the screen. Metal bobbins are not detectable by the machine.
Self-needle threading is one of the most challenging tasks, especially for people with limited vision. It's important to know that it employs an automatic needle threader that saves time and minimizes stress by threading the needle directly.
Pros
25-year warranty
Easy on-screen color editing
Enable large projects due to larger hoop
Easy guide steps
Cons
Did not use metal bobbins
A bit noisy
Our #3 Pick
Brother SE1900- Best 5×7 Embroidery machine
Specifications:
240 built-in stitches
10 frames shapes
10 buttonholes styles
Automatic needle threader
Before buying a product, make sure to read all of the details and, most importantly, how the machine works for others. We discovered the best brother embroidery machine after analyzing a variety of products. The embroidery area on the Brother SE1900 is 5″ X 7″, it only comes with one hoop and if you're working on a small project, you'll need to get another.
As a test, we looked at the SE625 and SE400 hoop, but they weren't compatible with this machine. A bright LED light is also included for a stunning dark fabric appearance.
The machine 138 built-in designs and 11 different embroidery fonts used for monogramming. All of the designs, according to user feedback, do not require a 5 X 7 hoop. Scroll to page 18 on-screen for more detailed information, such as projected time, before embroidering a pattern. By selecting the 'My custom stitch' option, you can save 15 designs in 128 KB memory.
Many people create their designs or use various software to do so. If you're like these people, you can use a USB to import your favorite designs and save them for later use. However, keep in mind that the machine imports images in the .PES format.
Its 3.2″ LCD color touch screen allows you to preview your design and edit different colors. You can also combine other letters and drag and drop patterns to create your unique design. The screen is cheerful to look at and is practical.
If you are working at a fast speed, your needle will most likely break repeatedly. To avoid excessive pressure, it is preferable to apply a suitable stabilizer.
Pros
Large embroidery area
Allows free-motion sewing
850 stitches per minute
25 years warranty
Cons
A bit tough for newbies
Does not have a walking foot
As you read, SE 1900 is the best brother machine that offers many features at a low price. The machine is simple to use and offers a wide range of design options, creating the impression of a professional sewer!!
Our #4 Pick
Janome Memory Craft 9850- Automatic Embroidery machine
Specifications:
200 built-in-stitches
6 one-step buttonholes
100 stitches per minute
6.7″ by 7.9″ Embroidery area
If you've spent any time in the market, you've probably seen the Janome Memory Craft 9850 embroidery machine. This machine has some unique characteristics that make the life of the craftsman easier. The production of high-quality items benefits Janome in establishing a solid reputation in the marketplace.
The Janome Memory Craft 9850 has a 6.7″ by 7.9″ hoop, which is a big area for big projects. If you frequently stitch large projects, it is ideal for you because it allows you to stitch larger projects without breaking them into pieces. If this isn't enough, you can work on larger projects after modifying the hoop. It has 5 LED lights in various positions that help you see the design clearly.
Janome Memory Craft 9850 can also make custom patches.
Not only is the color touch screen large, but it is very responsive. You may quickly update your design, change its size, and drag it around. Its screen, according to users, is incredibly clear, allowing them to see each color of thread before stitching the pattern.
175 built-in designs encourage you to continue embroidering continuously. Machine also includes two fonts for monogramming logos. You can also import new designs through USB from various software. You can also save your favorite design in the 3MB of internal memory.
The main feature that separates it from other brands is its speed. We noticed that it stitches at a rate of 1000 stitches per minute, which is one of the most compelling reasons to suggest it. You'll also save time using the automatic needle threader and thread cutter.
Put the machine on a straight and usable table for improved performance and working conditions.
Pros
Automatic featured machine
Number of happy owners
Larger screen
Cons
It did not come with an accessory box
Our #5 Pick
Brother PE535- Best Machine for Patches
Specifications:
14.99 pounds weight
80 built-in stitches
Drop-in bobbin
400 stitches per minute
Picking the best embroidery machine for patches can be difficult because there are plenty of options available in the market. During our investigation, we located four machines that were looking for patches. However, after more research, the Brother PE535 earned a spot on our list of top 10 embroidery machines.
The large 3.2″ LCD allows you to change the design you've chosen instantly. You can use your finger to change the color of different parts of your design or combine different patterns. An installation and troubleshooting guide is also included on the color screen.
There are 80 built-in designs and 9 unique fonts for monogramming. Floral, border, holiday, and kids designs are among the designs available. You can change the look of your design by combining two patterns and adding letters from nine different fonts, six in English and three in Japanese.
The best part is that when you buy this machine, you get access to ibroidery.com, where you can browse thousands of designs and import them via USB, which is a simple process.
The machine only has a 4″ X 4″ embroidery area, which is limited and cannot be increased. This product, according to reviews, is an excellent pick for those who are new to the craftsman market.
Its automatic needle threader puts the thread in the eye of a needle, which will save your time. You will use this feature with the help of an LCD screen.
Pros
Lightweight and portable
User-friendly LCD screen
Suitable Price
Cons
Not for professionals
It does not work as a sewing machine
Bobbins, a three-needle set, spool caps, scissors, a seam ripper, and a dust cover are some of the accessories that can help you get a quick start. However, some items must be purchased, such as thread, a thread stand, an 8 X 8 rip-away stabilizer, and a cutaway stabilizer ( for dense design).
Our #6 Pick
Janome Memory Craft 500E- Best machine for Large Designs
Specifications:
7.9″ x 11″ Embroidery area
160 designs
On-screen Editing
Auto Return post
The Janome Memory Craft 500E is a replacement for the Janome 350E. With this machine, you can easily decorate and embellish and monogram your garments and other fabrics. This machine highly suits the businessman working on large projects.
Its embroidery area of 7.9″ x 11″ is one of the largest on our list. These huge designs are only handled by experts. However, the machine also comes with four different hoops. We have noticed that Janome is giving this hoop size equal to much pricier machines. Some machines' hoop placement is challenging, but in my opinion, its hoop can be readily inserted and removed.
The 500E has a full-color touch screen, which makes your embroidery more comfortable. You can simply drag the pattern, adjust its size, change the position, and change the thread color.
The 500E has a full-color touch screen, which makes embroidery easier. You may drag the design to change its size, position, and thread color.
Another benefit is that it has 160 designs and 6 monogramming fonts, offering endless stitching. It's also possible to import patterns from different software using USB. A gorgeous border design was the major design that impressed me.
We were challenged to make a bracelet by one of our colleagues. We were confused, but there was a perfect bracelet after it was through, which we later handed to that colleague.
If you're working on a large project, you'll need to work quickly. Automatic thread cutters will be a time-saver for you. Another issue that persons with low vision suffer from is the needle threader. Thankfully, the machine has this capability as well.
Janome 500E is the best embroidery machine, having the capability of making different beautiful designs. The way of stitching and producing quality patterns cannot be beaten by any other. In our opinion, this machine is best for embroidery and for large designs.
Pros
Unlimited opportunities
Large embroidery area
Easy setup
A huge number of fan following
Cons
Not for newbies
Limited designs according to price
Our #7 Pick
EverSewn Sparrow X- Best for embroidery
Specifications:
16 lbs weight
850 stitches per minute
4.75″ x7″ Embroidery area
Auto thread tension control
Every industry is doing everything it can to get rid of outdated technologies and fulfill its goals in the advanced world. I've heard that the sewing industry hasn't changed all that much. I shall disprove this statement.
EverSewn Sparrow X is an advanced embroidery machine that creates beautiful customized designs. The machine's main feature, which sets it apart from others, is its smart device control via Apple or Android devices. Only download Eversewn App Pro and control your machine.
Other machines require you to remain connected to the machine screen, but sparrow x allows you to connect your device to the machine. After then, you can walk away from the machine while keeping an eye on the current status, time remaining, and thread color through your device.
It comes with 100 pre-installed designs, including flower, animal, scenery, patches, and hobbies designs. You can modify, adjust the size, or mix multiple designs into one if you don't like one.
The machine provides an embroidery area of 4.75″ x7″, a larger work area than other machines. Moreover, the machine uses an advanced automatic threader which can be a time saver.
Sparrow X by EverSewn is a modern and user-friendly sewing machine. If you don't have an embroidery or sewing machine, you'll need to get a dual-function machine, and this machine is the best option for you.
Pros
Smart device control
Quality stitches
Best for beginners
Cons
Auto thread control is not very well
8-bit screen display
Cheap Pick
Uten 2685A- Cheap Embroidery machine
Specifications:
200 built-in stitches
Auto size buttonhole
Adjustable thread tension
Automatic needle threading
Some people don't want a high-end machine that costs a lot of money. Because many people wanted to continue their hobby, so investing much money in these machines seems needless. Upon further examination of many machines, one product came out as the best for beginners.
UTEN 2685A is one of the cheapest embroidery machine.
The Uten 2685A makes it simple to keep your embroidery hobby going with 200 built-in stitches and 100 letters. You may pick a speed that is comfortable for you using the minimum and maximum switching speeds feature. Although the screen is not particularly huge, getting it at this price is nothing short of a gift. Because it is not a touchscreen, you must use pushbuttons to preview the design.
It also includes a free arm for threading cuffs and sleeves, an automatic bobbin winder, and a drop-in top bobbin. Don't be worried about these features; they're all easy to understand, and as I previously mentioned, this machine is perfect for beginners.
We have also taken a comprehensive test of cheap embroidery machines, you can also read it.
Pros
Easy instructions
Basic level machine
Fast working
Our #9 Pick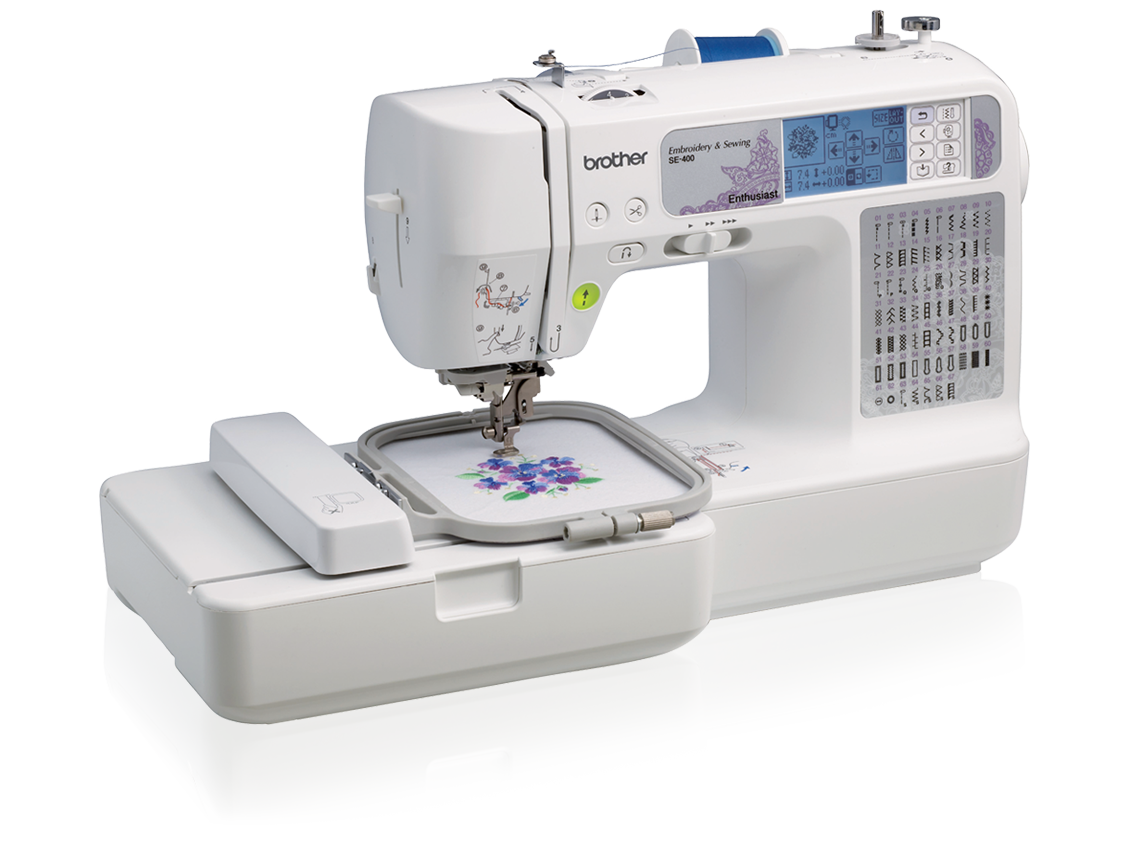 Brother SE400- Small Embroidery machine
Specifications:
4″ X 4″ embroidery field
Embroidery arm
Brightly lit workspace
Computer connectivity for updates
I knew many persons who started embroidering as a pastime and then turned it into a career. But that can only happen if you create high-quality, one-of-a-kind designs; it will indeed happen when you have the best machine.
So, here is the SE400 embroidery machine, which may assist you in earning money with less difficulty. It has a stitching area of up to 4″ X 4″. A touchscreen with a backlight is included to improve customers' ability to see their design and make it easy to change it with their fingers.
Brother SE400 can also stitch a free motion quilt design.
If the 70 built-in designs aren't enough for you, the USB connection allows you to import your designs. Ibroidery.com, a project of the brother organization, provides a large number of designs, and the machine quickly detects the submitted pattern. By delivering five distinct writing fonts, the machine allows you to add text to patterns.
Thread cutting is a tough and unpleasant operation for most crafters; fortunately, machines offer this capability so that you can enjoy your embroidery more.
Pros
Fast and easy stitching
Wide collection of designs
Tutorials for guidance
Touch pen for using a screen
Cons
Foot pressure is not adjustable
Black and white screen
The Brother SE400 offers a variety of exciting features ideal for beginners and people who work as a hobby. Its features are simple to use because it is computerized. So, if you like this machine, don't wait to make space in your home.
Our #10 Pick
Singer Legacy SE300- Best Singer Embroidery machine
Specifications:
250 built-in stitches
800 stitches per minute
Drop-in bobbin
25 years warranty
When we started testing Singer machines, the SE 400 created outstanding stitches. It's a well-known machine with a variety of functions and accessories.
To start, examine its visibility; its black and white screen is simple to use, and it allows you to control the embroidery settings. One thing I didn't like about it was that the screen didn't inform you from where it was going to start.
When it comes to patterns, it offers 200 different beautiful designs that were stitched by the machine to perfection. If you wish to add your designs to the machine, you may utilize a USB stick. You may stitch both large and small designs because it comes with two hoops, 10.5″ X 6″ and 4″ X 4″. So that's amazing!!
It gives the feature of an automatic needle threader through which thread quickly goes into the eye of a needle.
Pros
Fast and smooth working
Auto tension adjustment
Easy to setup
Extra embroidery area
Cons
Stitches variety may overwhelm beginners
The price is a bit high
Buying Guide
If you're still confused after reading all of the product reviews and specifications, you must first read our buyer's guide to choosing the ideal product to begin your embroidery. This buyer's advice will ensure that you avoid buyer's remorse.
Embroidery Area:
The embroidery area is an essential feature of the machine that determines how much space you can stitch your pattern. You will be able to embroider bigger projects with a wider embroidered area. Similarly, for smaller projects, a lesser area will be employed. It all depends on your requirements, which is why we selected a variety of goods from various embroidery sectors.
Machine Functionality:
The primary issue we discovered during people's feedback was their inability to embroider their products. One customer purchased the machine to embroider baseball caps; however, the machine was not built to embroider hats. Similarly, some people complained about shirts, while others complained about patches, and they all blamed the manufacturers.
We've described what this machine is used for. As a result, it's a good idea to double-check beforehand.
USB Connectivity:
All of the machines come in a variety of designs, giving you plenty of options. However, what if your preferred design is not stored in the machine's memory? It appears that the machine is useless for you. As a result, some machines include USB capabilities, allowing you to import handmade or software-based designs.
We only included products that have USB connectivity.
Customer Reviews:
Just choosing a product on the basis of its specification is not a wise decision. You must properly look that how it works for other people who are using it. So go for machine reviews on amazon or any other platform.
LCD Screen:
A larger screen will allow you to make more changes to your design quickly. Furthermore, persons with poor vision may consider purchasing a bigger screen to handle the pattern efficiently.
Time-saving features:
If you are stitching a large pattern, you must have a shortage of time. So you must have to see time-saving features in your machine. An automatic thread cutter and needle threader are two main features that a machine must have.
FAQs
Conclusion:
We've written everything we concluded about the best embroidery machine based on our research. After reading the reviews and buyer's guide, I hope that your all questions will be answered. However, if you are still unsure about the product to choose, we will help you by providing three possibilities. So, here are some suggestions:
Brother PE800 Embroidery Machine- Best Computerized Machine
Janome Memory Craft 9850- best automatic embroidery machine
EverSewn Sparrow X- best embroidery machine for personalizing
Latest posts by Baron Robinson
(see all)