You may have heard that embroidery machines are costly; yeah that's true. However, the machines aren't always pricey! Always companies release affordable versions for ease of their customers. Finding a low-cost machine with the best features is challenging, but we did it for you.
We compiled a list of all low-cost products and tested them one by one. Although many machines passed our test, some were unable to provide the best features. So we choose 5 of the best cheap embroidery machine based on pricing and features.
IMAGE
PRODUCT
FEATURES
PRICE

Our Top Pick

Brother PE535- Best Affordable Machine

3.2″ LCD screen
80 designs available
9 built-in fonts
4″ X 4″ working area

Check on Amazon

Brother 550D- Best Budget Machine

125 available designs
3.2″ Color screen
4 X 4-inch working area
9 letter fonts

Check on Amazon

Our #3 Pick

Uten 2685A- Inexpensive Machine

200 built-in stitches
Electric and handheld
Multifunctional features

Check on Amazon

Our #4 Pick

Brother SE600- Low Cost Machine

80 designs
3.2″ LCD touchscreen
4″ X 4″ embroidery field

Check on Amazon

Our #5 Pick

Brother Star Wars LB5000S- Cheap Machine

3.2-inch screen
80 designs
4 x 4-inch embroidery area

Check on Amazon
What to see in a Cheap Embroidery Machine?
Choosing a low-cost machine might be tough because some features can be compromised. However, with a little study, you can find the best embroidery machine under $500 with all of the necessary features. That's why we have excluded a number of products from our list since they were cheap but missing important features.
The following are some factors we considered while testing, which you should consider as well before choosing an embroidery machine.
Embroidery area:
The working area is important since it determines how large of a design you can thread. All machines have a fixed embroidery area that cannot be changed (Although there is a way to change but cannot be done by beginner or intermediate sewers).
Almost all cheap machines have a 4 X 4-inch space, so if you want anything bigger area, go for a costly machine.
Screen:
If you don't like a design, you can make some simple changes like changing the colors or inserting letters. But if your machine does not allow editing, this will hurt you. So, choose a machine that enables on-screen editing and is straightforward to use.
Designs and USB functionality:
Each machine has a variety of beautiful and unique built-in designs. As a result, make sure that your chosen machine provides designs that are suitable for long-term embroidery.
Many users, I've observed, download designs from various embroidery software and then import them to their machines. So, if you plan to acquire more designs in the future, search for a machine with a USB port.
Extra Features:
Extra features are optional, but they can save you time and effort. So it's important to keep an eye out for them.
Users Reviews:
A product is never defined by its specifications; rather, it is always defined by customer reviews that describe how it performs out of the box. So check for reviews on the product you've chosen.
Best Cheap Embroidery Machine
Our Top Pick
Brother PE535- Best Affordable Machine
Specifications:
3.2″ LCD screen

80 designs available

9 built-in fonts

4″ X 4″ working area
Brother PE 535 is a fantastic machine for beginners and people who do not want to make large designs. Overall performance is outstanding, which is why it is at the top of our list. The machine arrived two days after I placed my order, and it is packaged beautifully, giving off a positive first impression.
It comes with pre-installed, ready-to-use designs to get you started with embroidery straight away. You can look over the designs on the screen and choose your favorite. You may also adjust the size, rotate, and change the colors of any design on the screen.
Don't let your hand or object hit the hoop, it will misalign the pattern.
A USB port is also available, making it very simple to load external designs. If you import a design that is larger than the 4″ X 4″ embroidery space, an alert will appear on the screen. A 4″ X 4″ hoop can be restrictive sometimes, but you can still accomplish a lot with it.
It includes three different spool caps, a scissor, a screwdriver, a hoop key, a few additional bobbins, and a lot more to get you started.
Pros
Very easy to operate

Best in price
A lot of design and alphabet
It's an excellent machine at an affordable price. If you're not sure how much money or time you'll put into embroidery, this is the best way to start.
Editor Choice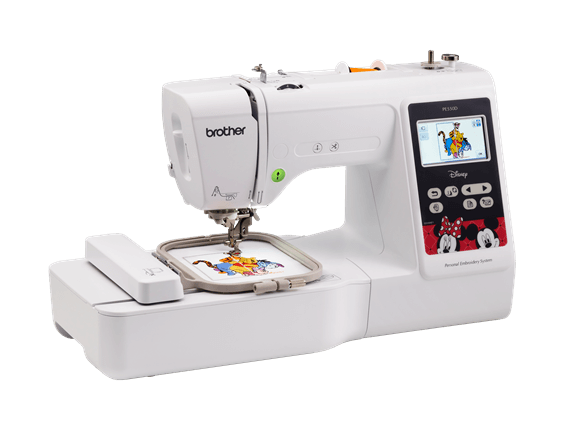 Brother 550D- Best Budget Machine
Specifications:
125 available designs

3.2″ Color screen

4 X 4-inch working area

9 letter fonts
Want a machine with outstanding features at a reasonable price so you may enhance your creativity? This well-priced embroidery machine is the finest option.
I think it's fantastic that after years, Brother has produced some affordable and entry-level products. This model is unique because it contains numerous lovely Disney designs. It also comes with brother designs and a USB slot for importing your own. The .PES file format is used to import designs.
It can only hold a 4 X 4 inches design in size and cannot be larger. You'll also appreciate the screen, which makes it simple to see the pattern you want to embroider, even if you've imported thousands of them. Cropping, rotating, flipping, and changing colors are among the on-screen editing options.
Pros
Disney design included
Best for beginners
Great value for money
Compact and reliable
Cons
only for small designs
Embroidery only machine
This machine works very effectively for me. You'll need some practice to get a good handle on it. It is, without a doubt, the most user-friendly machine I have ever used. So don't be hesitant; just go for it.
Our #3 Pick
Uten 2685A- Inexpensive Machine
Specifications:
200 built-in stitches

Electric and handheld

Multifunctional features
The Uten 2685A is an entry-level combo machine that isn't bad for beginners, although it is fairly simple.
It has a variety of designs that are both unique and creative. One thing you might not like about it is that there is no method to import your designs. Free motion embroidery is another option. Furthermore, if you don't like the speed, you can change it to your satisfaction.
Uten 2685A is one of the most cheap embroidery machine.
It has a screen, but not like that one; instead, it's a small one where you may preview your ideas. It has a push-button to preview and select a design. You have a range of different sewing features, so the possibilities are limitless.
Pros
Great for beginners
Reasonable price
Also include sewing
Cons
Limited features for embroidery
The footplate is not included
Our #4 Pick
Brother SE600- Low Cost Machine
Specifications:
80 designs

3.2″ LCD touchscreen

4 X 4 embroidery field

USB functionality
In comparison to its past machines, Brother has achieved significant progress. SE600 is an example of a machine with a strong reputation in the market by establishing people's trust. And if you are looking for the best cheap sewing embroidery machine, then it will be the best option.
I'm also using it for my home business, and I'm pretty delighted with how well it works. I stitched some flowers on jeans to take an in-depth look at them, and they finished out flawlessly and attractively. The directions in the manual are useless, but the screen shows you what to do next.
This machine, I've noticed, is quieter than others, so it'll be ideal if you work at midnight or live in an apartment. The color screen is extremely user-friendly and functional, allowing you to change any design right on the screen.
It has a lot of built-in designs, as well as a USB connector for importing your downloaded patterns. You can thread little designs using the 4″ X 4″ embroidery space. If you are constantly changing threads, an automatic needle threader will assist you and save you time.
Pros
Quiet and smooth operation
Excellent value
Great pattern strength
Is real workhorse
Cons
Breaks cheap thread
The sewing speed is slow
Our #5 Pick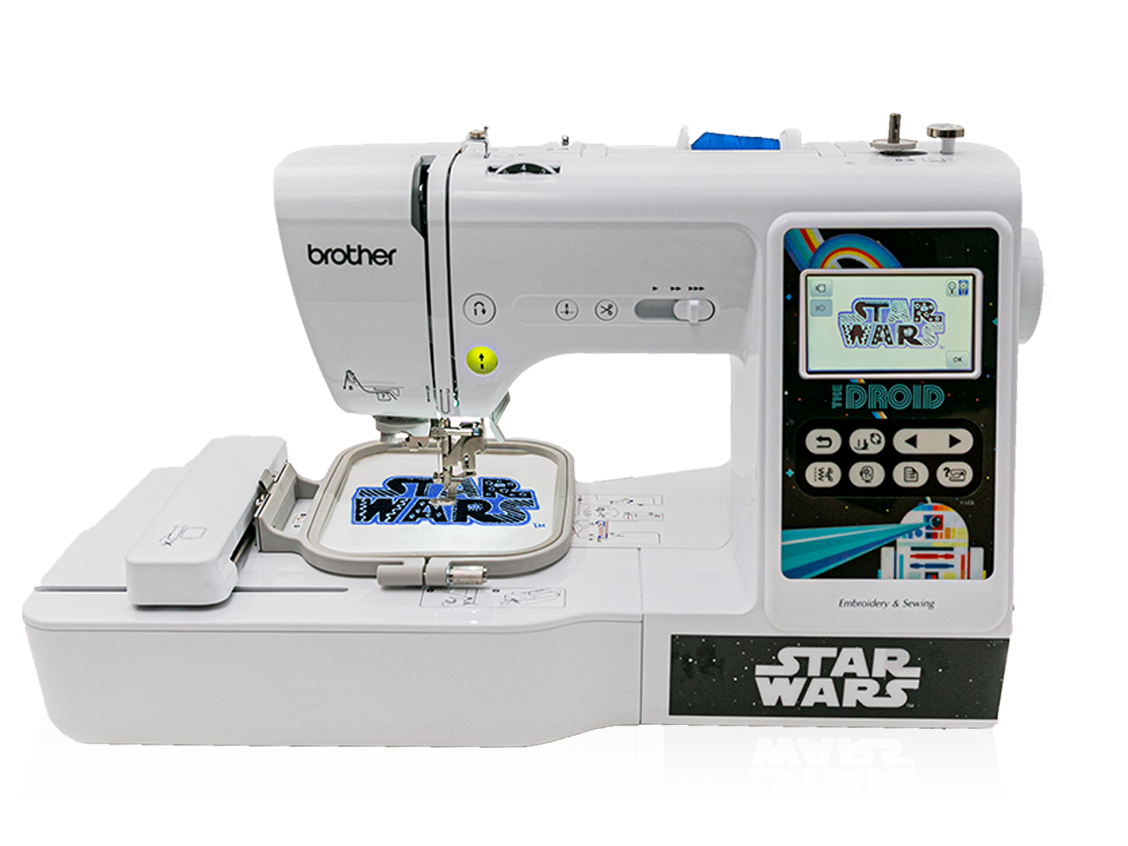 Brother Star Wars LB5000S- Cheap Machine
Specifications:
3.2-inch screen
80 designs
4 x 4-inch embroidery area
Star wars facelift included
It was my first time working with the LB5000S embroidery machine; I had never worked with this before. It is the best cheap embroidery machine for custom designs. I only used it for needlework, and it was really simple to learn and use.
You may make imaginative designs using the machine's numerous design options. You can also get designs from websites such as iBriodery.com and transfer them into the machine. The machine also features 3 Star Wars interchangeable facelifts.
The screen is obvious, and placing letters between designs is a lot of fun. I've discovered that the machine has computerized programming that allows it to work on its own. The embroidery hoop is 4″ X 4″, which is large enough to construct various designs, but some designs are larger than that. As a result, you will need to purchase an additional hoop if you have a large design.
Pros
Combo machine
User friendly
Beginner machine
When it comes to its working, the machine is quieter and is a bit faster than others. We are delighted by the machine and will also recommend you for embroidery.
FAQs
Conclusion:
If you are reading until now, we are sure that you might have selected one of the products. We have taken an extensive test of all products to find the best cheap embroidery machine and give our honest review. If you still face some confusion, here are our three recommendations.
Brother PE535- best affordable machine
Uten 2685A- inexpensive machine
Brother SE600- low cost machine
Latest posts by Baron Robinson
(see all)